Grinding, Resurfacing, Machining, Relining & Cleaning
P&O BRAKE is more than just the best place to buy your brake parts, because we offer you the ability to have your rotors and drums machined when you pick-up your pads and shoes, or have us put new lining on your custom or hard-to-find shoes. We pride ourselves on using of the latest technology in combination with our extensive knowledge to ensure that your job is done right.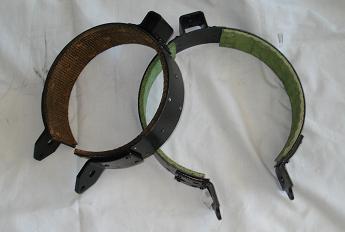 I didn't know you did that....
The flywheel connects the engine and the clutch, and in order for them to operate smoothly, the flywheel needs to have a fresh, flat surface each time the clutch is replaced. Our state of the art technique in flywheel resurfacing leaves your flywheel with a uniform thickness over the entire surface. Both steel and cast iron flywheels are done with ease providing the same high-quality finish regardless of the material.
Flywheel grinding starts at $40.
Rotor resurfacing is a necessity each and every time a brake service is performed, when new rotors are not needed. You simply do not want to place your new brake pads in contact with a surface that has already been worn to your last set of pads. At P&O BRAKE, we take rotor resurfacing seriously, and provide fast turn-around time with high quality, professional workmanship.
You may have been told by other places that your slotted and/or drilled rotors can not be machined; but, they can, and we do them all the time.
Our skills and knowledge have also proven that the large 18" air disc rotors are not a problem for us either.
Rotor machining starts at $15 (volume discounts available to automotive repair shops).
Special Note: Leave the hub attached for a truer machine.
The resurfacing of the drum is imperative to ensure that the maximum area of the new brake shoe comes in contact with as much of the drum as possible while braking, and to remove any groves or hard spots that were created by the previous shoes.
Whether you are working on an antique car, your daily-driver, a motor-home or semi-truck, P&O BRAKE can transform your drum's surface into a fresh new area.
Drum machining starts at $15.
Are you having a hard time finding that brake shoe or brake pad where no store sells a replacement? Do you have a piece of equipment broken down and it will take too long to get the replacement shipped in or the cost for a new one is astronomical? We can help!
Friction relining has been a specialty of P&O BRAKE's since 1963. Relining is more than removing the old material and replacing it with new. The process begins with stripping and cleaning the shoes, pads, brake band, clutch or custom equipment piece, and then a fresh coat of paint is applied. While the paint is drying, our experts are researching and cutting to make sure your part has the right material, in the appropriate thickness, to restore your part to its like-new condition.
Sometimes, taking the old parts off leaves them in a condition that you do not want to put back on your vehicle or equipment. P&O BRAKE has the capabilities to clean your metal parts and return them to you the same day, free of grease and grime.
Parts cleaning starts at $10.